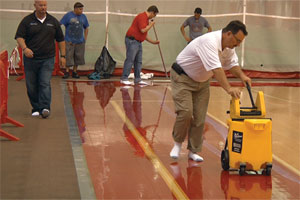 We love doing Sport Kote Seminars.
We wish we could demonstrate the Sport Kote Promise to everyone and show them how much time and money is saved using the Sport Kote System. Unfortunately, we can't be everywhere all the time. For those who would like to attend a seminar but can't find one nearby, we offer the opportunity to sponsor a seminar at their place of business.
If we haven't done a seminar in your area recently and you provide us with one gym floor in good working condition, we'll provide the material to finish the floor, the labor, the education and we'll even buy lunch! The finished floor alone is worth about $4000 to say nothing of the money you'll save using the Sport Kote System going forward! All you have to do is complete the form below. It's that easy! We look forward to seeing you on your new Sport Kote floor!
Terms and Conditions
A seminar has not been recently done or is scheduled in your area.
You can provide us with one gym floor in good "working" condition for our demonstration.
---
If you would like to sponsor a seminar, please submit your information below. We will review your details and get back with you shortly. We look forward to hearing from you!