Life-Extending Floor Cleaner
Product Number: 01143SF
Specially formulated to work with Sport Kote's unique polymer technology, this restorative cleaner promotes bond resilience and durability in the finish while extending the life of the floor itself. Its no-rinse, neutral formulation makes it ultra-simple to use. Makes it great to use as either a regular cleaner or a tacking cleaner.
Sport Clean is part of the Sport Kote System.
---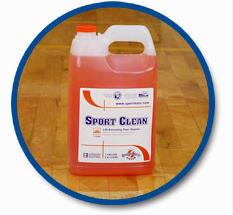 ---
Features – Sport Clean – 01143SF
Maintains coating flexibility to extend floor life
Versatile neutral cleaner for regular cleaning or as a tacking cleaner
UL-classified for slip resistance
No-rinse, neutral pH cleaner for damp-mopping or scrubbing of finished wood floors
Directions – Sport Clean – 01143SF
General Directions**
Damp-Mopping –
dilute 2 ounces per gallon (1:64)
Automatic Scrubbing –
dilute 2 ounces per gallon (1:64)
All Purpose Cleaning –
dilute 2-4 ounces per gallon (1:64 – 1:32)
For use on all surfaces not harmed by water. Dilute with cold water.
CAUTION: Avoid saturating wood floors with cleaning solution. Be sure mops are thoroughly wrung out and auto-scrubbers are in good working order. Do not use on unfinished or poorly finished wood floors.
** See label directions and MSDS for complete usage and safety instructions.
Properties – Sport Clean – 01143SF
Type – Synthetic Detergent
Form – Clear Liquid
Odor – Fresh
Color – Orange
Weight per Gallon – 8.41 Lbs.
pH – 7 – 8
pH 1% – 7.0
Storage Stability – Min. 1 Year
Freeze/Thaw – Passes 3 Cycles
* Properties are typical and subject to usual manufacturing tolerances
Packaging – Sport Clean – 01143SF
4 x 1 F-style Gallon:
UPC Code: 783366114344
Pack Size (in.): 15 x 8.75 x 12.75
Cube (ft.): 0.97
Pack Wt. (lbs.): 37.60
Full Pallet: 36