Water-Based Urethane Wood Finish
Product Number: 00222SF
Full-matrix self cross-linking technology makes this ultra-rapid curing finish highly durable. There's no sanding, catalyst or messy glues. Because it's a single-component finish, you just pour and go. You can play on it the next day and it's good for a year with proper maintenance. 500 million square feet of wood floor finished with Sport Kote says it all!
Sport Kote is part of the Sport Kote System.


WARNING: Reproductive Harm – www.P65Warnings.ca.gov.
---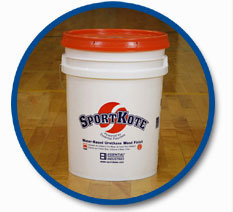 ---
Features – Sport Kote – 00222SF
No sanding or screening
Single-component – pour and apply
No pot life
Adheres to any sound gym floor coating
Fast-drying – 60 minutes under normal conditions
Play on it the next day
Easily restored to like-new gloss
Self cross-linking eliminates need for catalysts, gluing or heavy metals
MFMA-approved and UL-classified
VOC-compliant in all 50 states
Finish lasts for 1 year with proper maintenance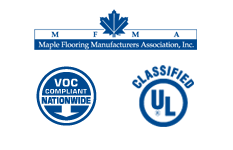 Directions – Sport Kote – 00222SF
General Directions**
PREPARE FLOOR: NOTE: This finish is not designed for application to bare wood floors. Use only on previously sealed surfaces. Use only after proper training.
SCRUB AND RECOAT: Dust mop floor and remove all chewing gum and labels. Prepare floor with Sport Prep (00425SF), following the label directions.
NOTE: Test previously coated floor in an inconspicuous area before recoating to determine compatibility with existing finish. Apply no more than 2 coats in 24 hours and a maximum of 3 coats in 48 hours. See finish application instructions below.
APPLY FINISH: Stir gently before using. Apply at a rate of 800-1000 square feet per gallon. Use a weighted T-bar with a clean, synthetic pad. Apply thin, even coats with the grain of the wood while walking at a slow, even pace. Walking too fast may produce excessive bubbling in the finish. Allow a dry time of at least 1 hour between coats. Humid conditions require longer dry time. After the first coat has dried, apply a second coat. It may be necessary to screen the first coat if grain raising has occurred or it has dried longer than 4 hours. If so, screen the floor with a previously used 120 grit screen or maroon pad. Always vacuum and tack thoroughly after screening.
NOTE: Check expiration date. Contact Essential for batch re-certification if expiration date is exceeded. Do not pour unused finish back into original container.
MAINTAIN DAILY: Dust mop at least daily, or more as required, to keep floor dust and dirt free. Damp mop spills, salt residue, etc. with Sport Clean (01143SF) and a thoroughly wrung mop.
MAINTAIN WEEKLY: If soil conditions are heavy, auto-scrub weekly with red pads and a 2 ounce per gallon dilution of Sport Clean (01143SF). Refer to the Wood Floor Care Wall Chart or Manual for further details.
CAUTION: Do not use cleaning compounds other than Essential's Sport Clean (01143SF) as they will reduce product performance and longevity.
RESTORATION: Dust mop floor. Follow restoration directions for Sport Prep (00425SF).
** See label directions and MSDS for complete usage and safety instructions.
Properties – Sport Kote – 00222SF
Type – Urethane/Acrylic Blend
Form – Opaque Liquid
Odor – Bland
Color – Light Yellow
Weight per Gallon – 8.70 Lbs.
pH – 7.5 – 8.5
Floor Solids – 29%
Storage Stability – Up To 1 Year, Unopened
Freeze/Thaw – Passes 3 Cycles
V.O.C. – <260 gm/l
* Properties are typical and subject to usual manufacturing tolerances.
Packaging – Sport Kote – 00222SF
5 Gallon Pail:
UPC Code: 783366222056
Pack Size (in.): 12 x 14
Cube (ft.): 1.17
Pack Wt. (lbs.): 46.08
Full Pallet: 36
2 x 2½ Gallon:
UPC Code: 783366222032
Pack Size (in.): 14 x 9.5 x 15.25
Cube (ft.): 1.17
Pack Wt. (lbs.): 45.86
Full Pallet: 36
4 x 1 F-style Gallon:
UPC Code: 783366222049
Pack Size (in.): 15 x 8.75 x 12.75
Cube (ft.): 0.97
Pack Wt. (lbs.): 38.70
Full Pallet: 36