Safety and Slip Resistance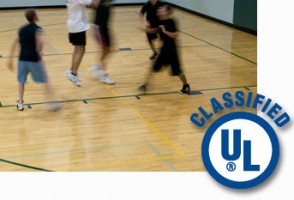 Why is slip resistance important in a floor finish? And what is UL classification?
One of our favorite sounds is the "chirp" of rubber soles on a basketball court. The "chirp" is the sound of the finish grabbing the sole of your shoe – the sound of slip resistance. If you are running and try to stop and the finish fails to produce friction with your shoe…well, you can imagine the results.
Many injuries occur every year because of floor surfaces with low slip resistance. When we hear a chirp, we say the floor finish is "tight" and we know it's safe because we can hear the positive slip resistance. With Sport Kote, you'll hear lots of chirping. Sport Kote is UL Classified, which means it's certified safe.